<![if !vml]><![endif]>Whittier Narrows Event "The Happening"
at The Meadows in S. El Monte
Wow what a blast. We cannot thank you all enough for your prayers and support. We could not have done as well without it.
The first year for the festival worked out great. All of our concerns were resolved in Godís timing and grace. We would also like to thank the sponsors who made this event happen. A special thanks to David Henk from Quiet Voice Audio who provided an excellent mix. David set up 6 Mackie speakers and 2 subs, (3 SRM 450's on each side of the stage with the 2 big Mackie 18 inch subs).Knowing that the message would be heard clean and clearly really allowed all the performers to relax and enjoy the Event.
We played the best gig of our short tenure as a band. We've been practicing for a couple of months this year and Barry our drummer decided he wanted to just play the drums and sing background vocals, so I agreed to sing his songs in addition to my own. Almost immediately I started to sweat, I'm having a tough time just memorizing my songs and playing the bass. Now I just added 5 or 6 of Barry's, no worries I thought God is good but then I remembered we arenít supposed to test Him. I give Him all the credit for helping my aging and less agile brain to get them memorize and learn the alternate syncopation against my bass lines. Sometime it feels like I'm trying to do the Macarena and sing reggae tunes linguistically.
<![if !vml]>
<![endif]>Joel Michael Posner played His Strat with a spectacular ease and with excellent dynamics, he shared with me afterwards "he just decide to go for it and is he hit a bad passage or note to power on through" and wow did he power on through. The hairs on the back of neck were standing up at times and it wasnít just from the volume. His touch and sense of groove were tremendous and his creativity was wild. I think I almost saw his guitar neck catch on fire!
<![if !vml]>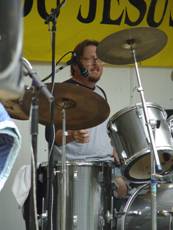 <![endif]>Barry McKinley our drummer played like he was having an out of body experience. Afterwards he said he didn't know if it was due to the heat he almost passed out mid-song in the set. I related ďme too!Ē, but that was only because I forgot to breath a couple of times after singing long passages with unusual verve.
<![if !vml]>
<![endif]>More News I finished up with our new cut of Redondo on Friday August 24th 2007. The song was originally called Atlanta and didn't make a lot of sense for us to play since I didn't live there. I originally co wrote it with Tom Brenner when Delta Air Lines bought Western Airlines, the company we both worked for. I rewrote the lyrics to better fit Redondo Beach where I currently live.
We are looking to start posting our songs online for downloading. I will let you all know so you can plunk your quarters into the jukebox and request your favorite This Side Up Hit.
I am still waiting for my hip replacement surgery and the chronic back and neck pain still plagues me. I am not looking for sympathy but for God's glorification as he uses me despite my limitations. We all have limitations; mine just seem a bit more transparent and frustrating. I need your prayers and encouragement to continue to try and be used in anyway God desires.
In His Grip
Gerald Jerry Patrick Wood
This Side Up Band Website
www.myspace.com/thissideupband1